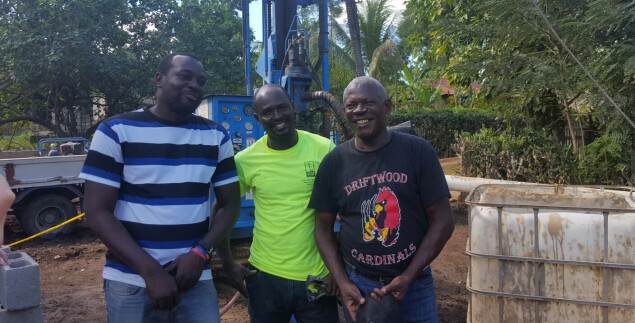 Commission to Every Nation (Jacob's Well)
CTEN is a servant organization which helps missionaries fulfill the unique vision God has given them. Through administrative support they provide accountability and help the missionary get to the field. Through pastoral care they help them remain effective and healthy while there. (website)
The Worship Place supports Gersan and Betty Valcin and their missionary work in Haiti, through CTEN. Dresses for Missions, ministry of The Worship Place, sews dresses for young girls in Haiti which are distributed by the Valcins.
Gideon's International
This organization exists as an advocate for the lost, to bring them the saving knowledge of the Word through not only placing and distributing Scriptures, but also through personal witnessing and by associating together for service. As a united force for the Gospel, they remain rooted in tradition, but operate under the firm belief that anyone can be a valuable asset to this invaluable cause. They provide many opportunities to partner with them through either prayer or financial support. (website)
Global Gates
The mission of Global Gates is to see gospel transformation of the world's most unevangelized people groups who have come to global gateway cities, and through them reach their communities around the world. (website)
Living Water International
Living Water International exists to demonstrate the love of God by helping communities acquire desperately needed clean water, and to experience "living water"—the gospel of Jesus Christ—which alone satisfies the deepest thirst. (website)
The Worship Place supports this mission monetarily, and also by sending missionaries to help with the drilling of fresh water wells, and sharing the gospel.
Matamoros Children's Home
Matamoros Children's Home is the largest Christian institution in northern Mexico. It provides a family to orphans, neglected, and abused children. Knowing the importance of establishing the foundations of a child's personality in early childhood, the Home provides a stable and predictable environment in which healthy relationships among the children and staff are developed. Responsibility is taught daily through example of conduct and attitude. Attention to each child is given on a personal basis to get to know his/her aptitudes and encourage them to develop them in their lives: "Train up a child in the way he should go, and when he is old he will not turn from it." (website)
Operation Christmas Child (Samaritan's Purse)
Samaritan's Purse is a nondenominational evangelical Christian organization providing spiritual and physical aid to hurting people around the world. Since 1970, Samaritan's Purse has helped meet needs of people who are victims of war, poverty, natural disasters, disease, and famine with the purpose of sharing God's love through His Son, Jesus Christ. The organization serves the Church worldwide to promote the Gospel of the Lord Jesus Christ. (website)
The Worship Place supports this organization with their shipment of shoeboxes around the world, Operation Christmas Child. These shoeboxes for needy children are filled with age-appropriate gifts as well as contain literature that shares the gospel. Dresses for Missions, a ministry of The Worship Place, sews dresses to put in the shoeboxes.