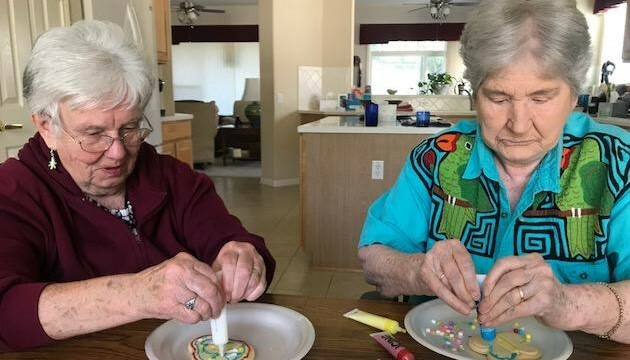 We offer numerous care ministries to serve our Church Family and community. The volunteers involved are the "hands and feet" of Jesus, helping those in need. If you, or someone you know, could benefit from any of the ministries below, please contact us at (512)869-1310 or email at .
Click on the light blue box to learn more...
Dementia Caregivers Support Group
This online support group focuses on the caregivers of those with dementia and takes place the 1st and 3rd Wednesday of each month via Zoom. For more information and to receive the Zoom link, contact Cheryl White.
Caregiver Support Ministry
This ministry meets the needs of caregivers by providing practical, emotional, educational and spiritual support. We provide in-home companionship to a loved one and respite (relief) for the caregiver, as well as offer workshops, guest speakers and social events. Questions, contact Elaine Carpenter.
Faith at Work
"Christians Helping Others in the Name of Christ"
Do you need help with routine home maintenance? Are you not sure about climbing that ladder? Help is only a phone call away!
We help with:
- Changing light bulbs/smoke detector batteries
- Adding salt pellets to a water softener
- Changing AC filters
- Temporary, light emergency housekeeping in the event of illness or injury.
Contact Paul Clark, team leader, if you have a need: 678-697-1289. Also contact Paul to find out more about helping in this ministry.
GriefShare
GriefShare is a network of 12,000+ churches worldwide equipped to offer grief support groups. The program is nondenominational and features biblical concepts for healing from grief. Learn more about GriefShare at www.griefshare.org.
Get more information about GriefShare at the Worship Place here, or contact Beth Burt.
Hidden Disabilities Ministry
Hidden Disabilities is a support group ministry serving family members of those who live with mental illness. Provides education and a unique opportunity to fellowship and learn with others who are facing similar challenges. Meets the 1st and 3rd Thursdays of each month from 1 - 2:30 pm, Rocky Hollow Campus. Questions? Contact Paul and Mary Lou Taylor.
Ministry of Hope
An outreach to those who have cancer or other chronic health issues who need God's hope no matter what their situation, circumstance, or latest scan results. We meet the 1st Thursday of each month, 3:00 - 4:30 pm at the Sun City Campus. In addition, we meet the 2nd Thursday of each month, 3:00 - 4:30 pm, via Zoom. If you have questions, or want to join them via Zoom, contact Sandy Althaus.
InReach Ambassadors
These volunteers contact TWP members and regular participants on a frequent basis either by phone, email, or personal visit. The purpose is to identify any ministry needs and/or prayer requests. Needs and requests are then referred for follow-up by one of our other TWP ministries and/or staff. If you'd like to learn more about being involved with this team, email .

The InReach Ambassadors honor God by reaching out to others in our community and connecting them with TWP ministries, as needed.
Prayer Warriors
Join us as we gather to pray as a church body. We meet every Thursday at 10:00 in-person at the Sun City Campus, however we occasionally meet via Zoom. For the current status, contact Elaine Carpenter.
Responsible Planning for End of Life Series
Offered in the spring and fall, this series gives pertinent information from a variety of professionals on subjects relating to end-of-life decisions. Call the church office for the next scheduled series, 512-869-1310.
Soup Ministry
Our ministry team members prepare and deliver homemade meals, soup and bread, to those who are ill or are recovering from surgery and unable to prepare meals. TWP members are also welcome to pick up soup/meals and bread from the designated freezers located at both campuses. Inquire at the Welcome Center desk, or contact Cindy Strong if you have questions or would like to become involved with this ministry.
Special Friends
Special Friends program has been temporarily suspended due to the COVID-19 outbreak.
This is a weekly program designed to provide a friend and a day of activities, including lunch, to those suffering various forms of dementia and provide a few hours of relief to caregivers. They meet each Thursday from 10:00 am - 2:00 pm. Get more information here. Questions? Contact Cheryl White.
Stephen Ministry
This is a group of lay people who have gone through extensive training to provide confidential one-to-one Christ-centered care to those who are experiencing grief, loss or any difficulty in their lives.
Click here to learn more about this ministry, and contact Dennis Quillen for information about the Stephen Ministry at TWP.
Veterans Fellowship
A fellowship of men and women focusing on the issues and challenges faced by Veterans which may not be addressed by other church ministries. Contact Dave Smith to learn more.
Visitation Team
These volunteers visit shut-ins, members who are disabled or living in care facilities, and those who have extended illness. They provide prayer, communion, encouragement, comfort and support. If you would like to be involved in this ministry, would like a visit or know someone who would, call the church at 512-869-1310.