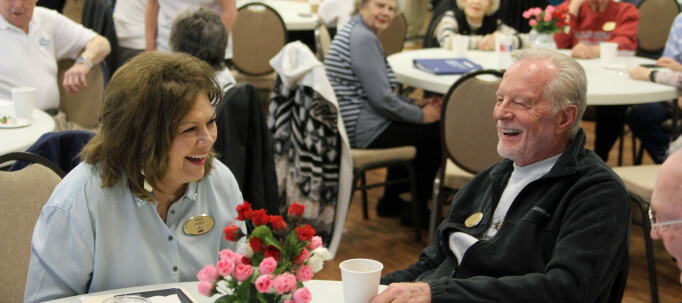 Authentic Fellowship
We value a faith family that shares spiritual gifts, personal resources, mutual acceptance, and caring accountability to encourage each other to become more like Jesus.
Click the light blue bar to expand the details.
Book Clubs
Christian Literature Book Club meets the third Monday of each month at 9:30 am, providing Christian fellowship for readers in our church and community through faith-filled book selections.
TWP Book Club meets the 3rd Tuesday of each month at 1:30 pm to discuss books that relate to our lives as Christians. Both meet at our Sun City campus.
Fellowship Tuesday
This group meets the 2nd and 4th Tuesdays of each month from 1:00 - 4:00 pm in our Fellowship Hall, Sun City campus, for fellowship and to produce a wide variety of handmade items that are donated to local organizations in need.
Thursday Evening Fellowship
This group provides an opportunity to socialize with others in the community while enjoying a simple and fun card game. Join us each Thursday from 5:00 - 8:00 pm in the Sun City Campus Fellowship Hall.
Veterans Fellowship
A fellowship of men and women focusing on the issues and challenges faced by military veterans which may not be addressed by other church ministries. Help us build a support network for one another. We meet the 3rd Monday of each month, 9:00 am, at the Rocky Hollow Campus. Refreshments are provided, and we encourage you to invite another veteran. Register on the website calendar. Contact Dave Smith to learn more.