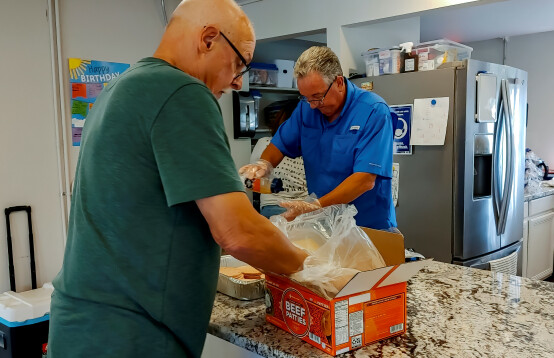 Below are the local organizations we support through giving and/or service.
Click the light blue bar to expand the details.
Brookwood in Georgetown (BiG)
Brookwood in Georgetown is a very "out of the box" innovative vocational community for adults with special needs where everything they make they sell in a beautiful high end gift shop, cafe and greenhouse. They want to change the way our world views this population by taking the "status quo" of providing these individuals with custodial care to these individuals creating beautiful, marketable items to sell to help sustain the vocational community they enjoy everyday. They have become artisans, bakers, gardeners, card makers, jewelry makers, and more. (website)
Children of the King
Boys gather in a family setting where they are taught to become providers, husbands, and fathers. They benefit from having a consistent adult presence that can offer advice, share life experiences and help them navigate life's challenges. Girls are mentored through life's challenges, are taught life skills, crafts, cooking, and engage in activities that will help them to become healthy women of God. (website)
Christ Child Society of Texas - Capital Area
The charitable objective of the national organization shall be to serve the needs of children at risk; by promoting effective volunteerism through education, service and leadership development; by developing and chartering Chapters; by maintaining standards and guidelines for the Chapters; by coordinating the work of the Chapters through unified programs; and by promoting the purpose and activities of this organization nationwide. (website)
Faith in Action (Drive a Senior)
Do you need a ride to our worship services on Sunday? Please contact Faith in Action, Georgetown, 512-868-9544. Faith in Action offers services to help older adults in maintaining and improving their quality of life. With assistance of volunteers, clients can maximize their ability to meet their own needs and to continue to live independently. They currently offer transportation, handyman services, errands, care calling and visits, information and referrals, and a medical equipment closet. (website)
Fellowship of Christian Athletes
The Fellowship of Christian Athletes is touching millions of lives…one heart at a time. Since 1954, FCA has been challenging coaches and athletes on the professional, college, high school, junior high and youth levels to use the powerful platform of sport to reach every coach and every athlete with the transforming power of Jesus Christ. FCA focuses on serving local communities around the globe by engaging, equipping and empowering coaches and athletes to unite, inspire and change the world through the gospel. (website)
Georgetown Meals on Wheels
Volunteers deliver prepared meals to local residents, and The Worship Place is active in this service. Each local congregation delivers food to recipients every nine weeks. This schedule provides a good planning arrangement. We receive our annual schedule in December and this allows volunteers to arrange their schedule so that we can meet their requirements. Their programs are provided free of charge and are designed to nourish and enrich the lives of the people they serve, allowing them to live at home with dignity and independence.

If you would like to volunteer with The Worship Place group on a regular basis or as a substitute, please contact one of the following: Dr. John and Sara Hudson, 512-948-7440, ; Gary Wood, 979-417-7073, ; Vicki Wood, 979-299-4531,
Reset Mentoring
Working exclusively with Williamson County Juvenile Services, Reset Mentoring is a non-profit organization that was created to help teens RESET their lives. Whatever that looks like for them. They have found over the past 10 years that one size fits all just doesn't work. The teens they work with are as different as you and me. They have their own God given talents, dreams and future and Reset Mentoring has found that for them to succeed long term, their mentors need to walk alongside them in their next best step. (website)
Salvation Army
The Williamson County Service Center offers urgently-needed services to adults and children facing the possibility of homelessness in Williamson County. The Service Center offers intake and assessment of the needs of men, women and children, provides direct services (e.g., food, rent and utility assistance) and refers qualified individuals to other important social services. The Service Center also supports the community with a nursing home ministry, a youth music program, summer camp, and outreach to a disadvantaged neighborhood. (website)
Soldiers Hospitality House
The Blokers have a heart to reach the 10,000+ single soldiers living in the barracks at Fort Hood by providing a Christ-centered "home away from home." They hold weekly dinners, Bible studies, Sunday fellowship lunches, and men's and women's Bible study groups. They also hold monthly day-trips devoted to exploring Central Texas. (website)
TWP supports this mission by giving a financial contribution, and also providing manual labor for projects and preparing/serving a meal on a regular basis.
The Caring Place
The Caring Place continues to fulfill the mission for which it was created back in 1985. It remains a local ministry of the community which serves the community. The Caring Place exists because of the generosity of the Georgetown community and because of the confidence the community has in the ability of The Caring Place to step up, and not step over, our neighbors in need. (website)
The Worship Place supports this mission through financial contribution, as well as collecting food items on a monthly basis.
Texas Baptist Children's Home
Texas Baptist Children's Home (TBCH) embraces children and families in need in order to empower and equip them for a promising future. Children, and single mothers with their children, who come to TBCH are often lost, hurting, and hopeless, without a place to turn for help during their time of greatest need. Their residential programs provide a safe home and a stable family environment where they can learn, grow, and ultimately experience a happy, healthy future. (website)
In addition to giving a financial contribution, volunteers from The Worship Place support specific cottages at the Texas Baptist Children's Home. TWP volunteers host spring and fall cook-outs to meet new residents, install Christmas decorations, as well as help with various needs as they arise.